All quality parameters at a glance
Wavefront-based contact lens inspection is a fast and robust alternative to classic lensmeters or focimeters and provides objective measurement results for
soft contact lenses
scleral lenses
RGP lenses
Ortho-K lense
with spheric, toric, or multifocal design.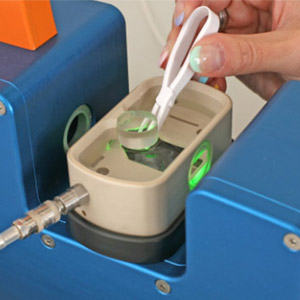 Optocraft's measuring devices for ophthalmic lenses record the relevant quality parameters of a lens in a single measurement – quickly and reliably:
refractive data
power map
image quality
SHSOphthalmic devices use vision cameras in addition to the Shack-Hartmann wavefront sensor to provide high-resolution images of the test specimen to create a comprehensive picture of the lens properties:
measurement of geometric data such as lens diameter or sag
toric mark detection
visual inspection of scratches, edge defects and inclusions.
The measurement of the wavefront and the refractive power distribution, as well as their analysis on the basis of Zernike polynomials, is used – e.g. by special lens manufacturers – for a precise comparison with the lens design. This in turn allows for further optimization of the designs and performance of the manufactured lenses.
Simple and flexible
The wavefront and the powermap, and the data analysis based on Zernike-decomposition, are used for comparison to tA simple workflow using the software SHSWorks, tailored specially to the application, makes measuring contact lenses in air as well as soft contact lenses in saline child's play.
At the same time, SHSWorks is also very powerful and can be configured flexibly that even the most complex of tasks can be solved easily, e.g. if the local refractive power distribution of multi-focal contact lenses is to be analysed qualitatively and quantitatively. Depending on the customer's objectives, the results can presented in line with the intended use:
clear and concise for production
a higher level of detail for research and development
The measurement results are stored digitally, and can also be relayed directly to the customer's ERP system or database.
For laboratory and production
Optocraft's measuring systems come into their own wherever a large number of lenses have to be inspected within a minimal amount of time, even if operators have only limited metrological experience. Small details ensure minimal "inter-operator variability" and provide a significant increase in efficiency in final inspection, such as the outstanding handling properties of the open-top cuvette or the ISO-compliant control of the saline temperature.
Our solution for contact lenses testing
The SHSOphthalmic cito measures soft and rigid contact lenses in less than half a second and provides direct information about refractive power, image quality and lens diameter.
additional Information