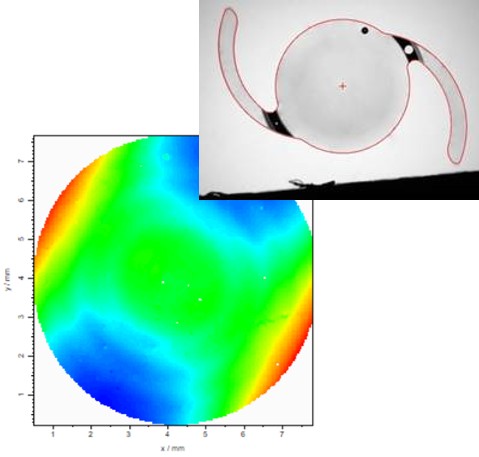 Intraocular lenses (IOL) for the treatment of cataracts or defective vision are subject to special quality requirements, as correction is very difficult after outpatient implantation. Every intraocular lens is therefore subject to strict quality checks and must undergo extensive qualifications.
Comprehensive assessment of lens quality
Optocraft's wavefront measurement technology is characterized by a fast and precise measurement of the refractive power and image quality, thus fulfilling the stringent requirements of the quality assurance of IOLs. It also reliably detects manufacturing defects that impair the optical performance of the lens. In addition, the haptic perception is recorded so that any deviations from the design can be assessed.
Fast measurement, easy evaluation
Optocraft's systems offer extremely fast measuring times (<1s), so that the physical handling of the lenses significantly determines the measurement speed. Using Zernike polynomials, the wavefront analysis allows an exact comparison with the lens design. This comparability between the manufactured lens and the optical design enables the performance to be continuously improved. In addition, the point spread function and modulation transfer function are determined from the measured wavefront.
Further advantages compared to classic lensmeters or focimeters are the user-friendly operation of the measuring systems, the digital documentation of the measurements and the versatile analysis options offered by the evaluation software.
Our solution for measuring intraocular lenses
SHSOphthalmic base HR IOL is a compact turn-key device for measuring refractive and geometric data and for determining the image quality of spherical and toric IOLs in liquid.
additional Information